Lady Outlaw By Stacy Henrie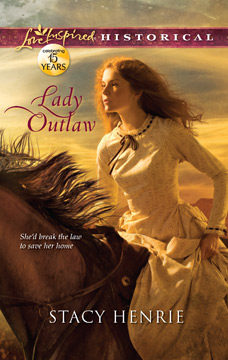 Lady Outlaw
Harlequin Love Inspired Historical
$5.75 Print | $3.99 Digital
ISBN: 978-0373829347
Sept 1, 2012
288 pages
She'd break the law to save her home...
No one would ever imagine a fresh-faced young woman could be robbing stage bandits of their ill-gotten fortunes. But Jennie Jones is desperate to save her family's ranch from foreclosure. And the risks seem worth it, until her upright new ranch hand offers a glimpse of how much is really at stake.
Former bounty hunter Caleb Johnson is ready for a new, clean start. With a woman like Jennie, he could build a future there in Utah territory. But only if his gentle faith can guide her in a choice between the land she's fought so hard to save and a future by his side.
Lady Outlaw: Bonus Material
Images from Southwestern Utah
Below are images that showcase the desert/mountain setting of Lady Outlaw.
Beaver, Utah
Westerns by Stacy Henrie
Other Titles by Stacy Henrie
..